Diskon Juli 2017 – YAZOLE Jam Tangan Pria Quartz Leather Band 315 – Brown Black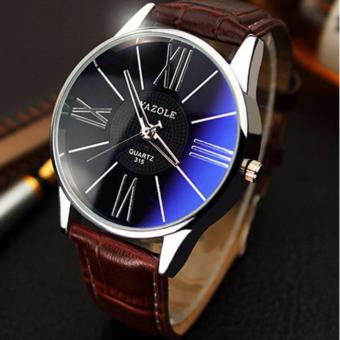 Review YAZOLE Jam Tangan Pria Quartz Leather Band 315 – Brown Black
Yazole 315 Quartz Watch with Leather Band forMen
Main Features:
– YAZOLE 315 leather strap analog quartzwatch for men.
–
Phantom blue mirror
, looks more luxury when youwear it.
–
Retro Roman numeral scales
, fully express yourelegance and charm.
–
Silver case
, shows noble and elegant charm.
– Stainless steel back cover and alloy watch case, strong andsturdy
in structure.
–
Leather strap
, comfortable to wear and durableto use.
–
Classic pin buckle
, convenient to adjust thelength and not easy to fall off.
–
30 meters water resistant
, easily cope with avariety of daily activities when wearing
it.
– Easy operation, just one button to set the time.
–
Joker style
, suitable for all kinds ofoccasions, you can match it as you
like.
Brand:
Yazole
Watches categories:
Male table
Watch style:
Business
Available color:
Black, Brown
Movement type:
Quartzwatch
Shape of the dial:
Round
Display type:
Analog
Case material:
Alloy
Band material:
Leather
Clasp type:
Pin buckle
Water resistance:
30meters
The dial thickness:
1.2cm / 0.47 inches
The dial diameter:
4.0 cm / 1.57 inches
The band width:
2.0 cm / 0.79 inches
Wearable length:
18 – 21.5 cm / 7.09 – 8.46inches
Array
Package weight:
0.080 kg
Product size (L x W x H):
23 x 4 x 1.2 cm / 9.04 x1.57 x 0.47 inches
Package size (L x W x H):
24 x 5 x 2.2 cm / 9.43 x1.97 x 0.86 inches
Package contents:
1 xYazole 315 Watch
About Water-resistantWatches
Water Resistant Watches are sealed towitstand some pressure.
Water resistance is tested in measurements of atmosphere (ATM).Each
ATM denotes 10 meters of static water-pressure. This is notthe
depth to which a watch can be worn. Many watch cases will listthe
basic measurement of 1 ATM as 'water-resistant.' These watcheswill
withstand small splashes of water but should not be worn
whilewashing the hands or submerging the hands in water.
Remember, water resistance is tested under static
conditions.Wearing a watch which is 50 metres water resistant in
water willexpose the watch to a much greater pressure than during a
50 metrestatic test. Therefore the number of metres shown on the
watch doesnot indicate the depth that the watch can be taken
to.
Here is a general guide
50M = 5ATM = Shower Proof – it's ok to get it wet a bit.
100M = 10ATM = Extended Water Exposure good for swimming
orsnorkeling.
200M = 20ATM = Pressure Resistant made for Scuba and
SkinDiving.
Q: A 100M watch is surely strong enough on a shallow dive?!
A: No! It isn't because it has not been high pressure sealed.
100Mwatches are only good for Snorkeling!
Q: What will happen if I try to dive with a watch that is less
than200M Resistant?
A: The watch's seal will be broken, it will flood
andbreak..irrepairably.
Q: So which watch to buy?
A: Think about what you need it for and bear in mind that
ScubaWatches (200M) look really cool but tend to be very heavy,
whichmakes them uncomfortable for everyday use.
 
c
Detail YAZOLE Jam Tangan Pria Quartz Leather Band 315 – Brown Black
SKU = YA087OTAA91XFUANID-21161832
Model = Jam Tangan Casual Pria
Ukuran (L x W x H cm) = 24 x 5 x 3
Berat (kg) = 0.5
Warranty period = 1 Bulan
Tipe garansi = Garansi Supplier
Keunggulan YAZOLE Jam Tangan Pria Quartz Leather Band 315 – Brown Black
The YAZOLE Wrist Watch is an excellent fashionable time keeping
piece that is worth adding to any collection.
This watch is a timeless classic which would make a wonderful
addition to any time piece collection.
This watch is very suitable as a gift.
Kelengkapan di dalam kotak:
\u003Cul\u003E \u003Cli\u003E\u003Cstrong\u003E1 x Yazole
Quartz Watch with Leather Band for Men – 315 – Brown
Black\u003C/strong\u003E\u003C/li\u003E \u003C/ul\u003E
Produk
:
YAZOLE Jam Tangan Pria Quartz Leather Band 315 – Brown Black
SKU
:
YA087OTAA91XFUANID-21161832
Kategori
:
Watches Sunglasses Jewellery – Watches
Harga
:
Rp. 104.850,00
Harga Spesial
:

Rp. 35.649,00

Anda Hemat
:
66%